Location
Dubovec Bisaški 1e 10383 Komin, Hrvatska
Contact
+385 1 2040 994
Quality
Quality products.
Multi-year experience.
What we offer?
Medical trolleys and medical furniture program
As the leading manufacturer of medical furniture on the Croatian market, Pirikom d.o.o. in its range offers medical trolleys in several sizes, with a different number of drawers and with the possibility of practical accessories. The stroller is a functional solution thanks to its mobility and easy maintenance. Also, the electrostatic lamination of the trolley gives the product durability by providing the best possible corrosion protection. Electrostatic lamination gives the products resistance and easy maintenance. In addition to the practical properties of the product, you can choose a color from a wide range of RAL colors, and the way the interior of the drawers is organized, as well as the variety of accessories. The stroller is primarily made according to your needs and wishes.
In addition to medical furniture, Pirikom d.o.o. makes high-quality laboratory furniture. Equipment and furniture in this group occupy one of the most demanding, but our favorite production segments. In the production of laboratory furniture and equipment, our creativity and experience come to the fore as one of our best qualities. Here we will offer and advise you from the original proposal, making a 3D presentation, material selection, production, and assembly and commissioning. We produce furniture and equipment from high-quality materials. Also, the laboratory furniture material, in addition to quality, is characterized by resistance and durability.
You can also download a list of all our products in PDF format.
Product catalog
trolleys in several sizes
trolleys with different number of drawers
possibility of practical additions
easy maintenance
trolleys mobility
electrostatic plasticization
corrosion protection
a wide range of colors
making a 3D presentation
solid construction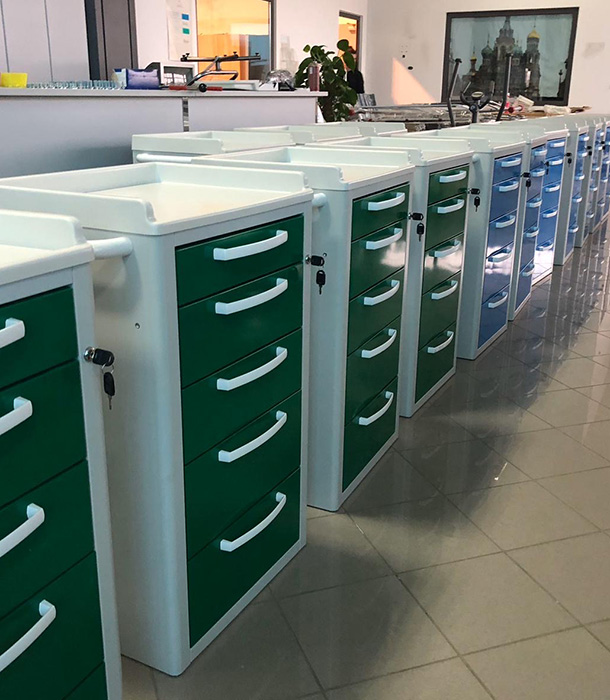 PRODUCT OFFER
Assortment of our products